A good way to manage contacts in your instance is to create an inative contacts segments.
Those identified contacts are not unsubscribe from your emails, so they are still reachable.
Create an inactive contacts segment allow you to regroup these contacts to target them in a campaign reactivating them.
Activity of a contact is mesure by actions he performed himself like open an email, submit a form or visit a tracked webpage. Actions that modify contact like campaign actions and segment changes doesn't count as contact activity.
To create an "inactive contacts" segment you must add filters after you created it to get what you want.
First filter : Last Activity Date inferior or equal to -90 days
This filter allows to include all contacts thas have been inactive for 90 days or more.
Date last Active record the date when a contact interact with Autmation.
This allows you to identified contacts not engaged on your content that you can reactivate to arouse their interest.
To understand why you must use -90 days value, check this article on the date filters.
Date de dernière activité (Date Last Active) enregistre la date dès qu'un contact interagit avec Automation
Cela permet d'identifier les contacts qui ne sont pas engagés sur vos contenus et donc que vous pouvez relancer pour susciter leur intérêt.
Pour comprendre pourquoi on doit utiliser -90 days référez-vous à cet article sur les filtres de dates.
Deuxième filtre : Date de création inférieure ou égale à -90 days ET "Date de dernière activité vide"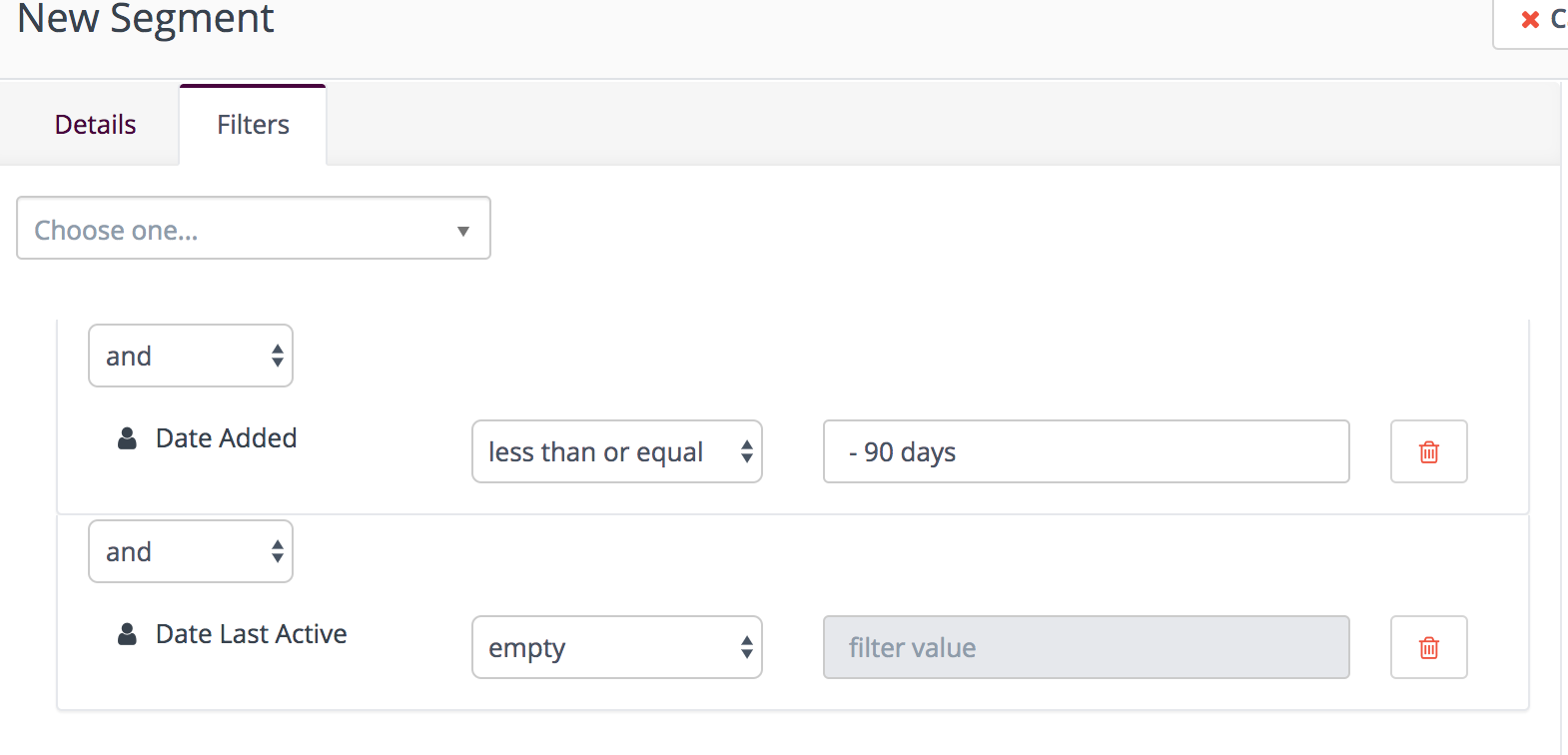 Ce filtre permet d'inclure tous les contacts qui ont été créé il y a 90 jours ou plus ET qui n'ont pas encore eu d'activité. Il permet de repérer les contacts inscrits qui n'ont pas encore interagi et de relancer leur intérêt avec une offre par exemple.