You can create a customized tracking link to change the way links are displayed in your emails.
Lorsque le suivi des liens est activé sur votre compte (c'est le cas, par défaut), nous les réécrivons automatiquement pour calculer votre taux de clic et qui a cliqué sur quel lien. Nous utilisons ainsi notre propre sous-domaine et renvoyons vos destinataires vers votre site instantanément. Vous avez toutefois la possibilité de faire en sorte que la réécriture soit plus transparente, sans que notre domaine n'apparaisse au cours de l'opération.
Pour faire une redirection, il faut :
add a CNAME entry into your DNS zone
create the subdomain of your choice 
point it to r.mailjet.com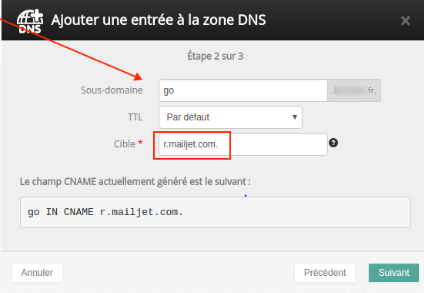 Then send a request to our support to get it activated by us.